On various occasions Ronny Hardliz will offer the 'practical' part of his Ph.D. thesis, the Cinema Car, as a service to transport participants of the conference from one place to another.

On short trips the Cinema Car will be used as a Shuttle. It will shuttle the participants' perceptions of the landscape back and forth through its nauseant cinematographic apparatus.

On the long trip from Sierre to Hospental we will attempt Traversing the West Bank. In a video call Ahmed Tobasi, artistic director of the Freedom Theatre in Jenin Refugee Camp, will tell us how they experience the West Bank with their Freedom Bus.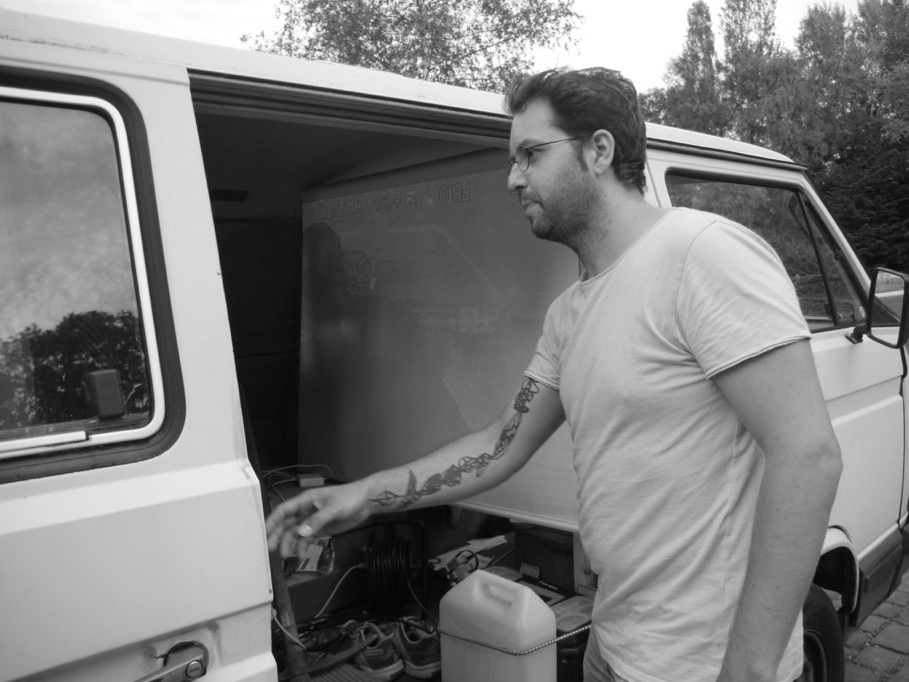 Ronny Hardliz currently asks: How do we look at animals? (SNSF-Postdoc.Mobility De-Doc-Donkeywork: Decolonising Documentary Art Practices and the Global Crisis for Donkeys in collaboration with the Film, Photo and Literary Composition Unit of HDK-Valand, University of Gothenburg, 2022-24). Before that he asked: How can we see without 'looking at'? (SNSF-Spark De-Doc: Decolonising Documentary Film Methods in Artistic Research, Lucerne School of Art & Design, 2020-21); and: How do contemporary Art & Architecture practices compare to those in former socialist countries like CSSR and GDR? (exhibitions, podcasts, and publication: Basis Kunst und Bau – Macharten von Ost bis West, Stadtgalerie Bern, Hochschule der Künste Bern, BAKUB, Vexer, 2020-22). For his Ph.D. studies in art he asked: What on earth do I mean when I say 'non-construction'? (thesis: Non-Construction – An Architectural Gesture in Artistic Research, Diaphanes 2021/22, Ph.D. obtained from Middlesex University in London, 2018, in association with Lucerne School of Art and Design, 2010-14, ETH Zürich, 2012-14, and Goldsmiths University of London, 2015-16). Initially he is an architect (EPFL and Carnegie Mellon University, 1992-97), filmmaker (Pittsburgh Filmmakers, 1995, Hochschule der Künste Bern, 2018), and artist fellow (Istituto Svizzero di Roma, 2003-06).